Contractors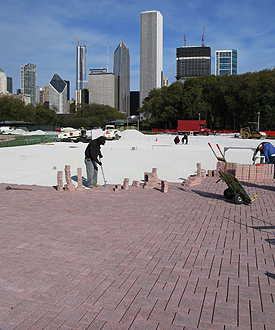 Professional paver contractors need to keep up with the times and be in the position to take advantage of potential markets that may offer opportunities to grow and prosper. If one aspect of the market is down, others may be doing well. Permeable pavements are increasingly becoming an important aspect of sustainable design and UNI® Manufacturers are at the forefront of this market.

As the first to offer permeable interlocking concrete pavers in North America, UNI-GROUP U.S.A. recognized the potential several years prior to the rest of the industry. We offer a number of permeable shapes under our Eco-Stone® Family of Permeable Pavers of pavers, as well as traditional pavers and specialized shapes for heavy-duty pavement. Our manufacturers are leaders in the industry and offer extensive lines of pavers and retaining walls for residential, commercial, municipal and industrial pavement applications.

We offer extensive design, technical, and installation information, specifications, manuals, cross-sections and more. Our manufacturers also offer support, educational opportunities, and marketing expertise, as well as materials produced specifically for their local markets. Most UNI Manufacturers offer ICPI Certified Training program - contact the producer nearest you to learn more..

Have a question you can't find an answer to on our web site? Please click on the Contact Us link above, give us a call at 1-800-872-1864 or send us an e-mail. We'll do our best to answer any questions you may have. If you are a contractor Interested in listing your company information, website link and logo on our site, we're developing a new page with Contractor Listings for a very low monthly rate. Contact us if you are interested.
CONTRACTOR EDUCATION AND SEMINARS
Please visit our Conferences, Expos, and Seminar page for UNI Manufacturer contractor education opportunities.

Looking for a quality contractor? Visit our UNI® Manufacturers' websites for recommended paver installation contractors or www.icpi.org for a list of ICPI certified contractors in your area.

For information on licensing and producing UNI® products, please contact the licensor by clicking on the Licensor link below.
We offer over 175 downloadable items for design professionals and contractors.

Tags: Interlocking concrete pavers, heavy-duty pavers, industrial pavements, commercial pavements, UNI Pavers, permeable pavers, PICP, mechanical installation, interlocking paver contractors and installers