Industry News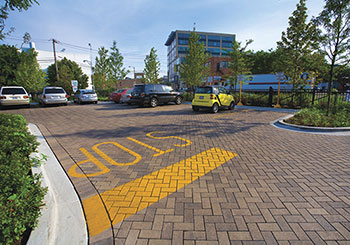 We will feature news relating to the pavement, engineering and design industry on this page. For news on UNI® projects and products, UNI research and articles, and UNI Manufacturer news, please visit our UNI News page. We also feature a Green News page as well with the latest news on stormwater, green infrastructure and building, EPA updates, and much more.
Quick Links
Tags: Interlocking concrete pavers, heavy-duty pavers, industrial pavements, municipal pavements, UNI Pavers, permeable pavers, PICP, concrete paver news, UNI News
Research at NC State Confirms Permeable Pavement Works in Clay Soils
From the Winter 2016 edition of Interlock Design Magazine
Many design professionals cite clay soils as a barrier to utilizing permeable pavements due to their limited infiltration capabilities. A recent study at North Carolina State University has demonstrated that permeable interlocking concrete pavements are effective in improving stormwater runoff hydrology and water quality, even in the case of low infiltration clay soils. The study monitored a permeable paver site located at a Durham, NC city park sited over soils with an infiltration rate of approximately 0.01 in./hr from March 2014 to April 2015.
Results indicated 22% volume reduction via subgrade infiltration and peak flows were significantly reduced by a median of 84%. The site also had exceptional pollutant removal efficiency with a reduction of total suspended solids (99%), total nitrogen (68%), and total phosphorous (96%).
ASCE Publishes Committee Report on Permeable Pavements
Permeable Pavements Task Committee
Edited by: Bethany Eisenberg, Leed AP, Kelly Collins Lindow, P.E., and David R. Smith
After more than five years of work, a design guidance manual on Permeable Pavements has been published. It was sponsored by the Low Impact Development Committee of the Urban Water Resources Research Council of the Environmental and Water Resources Institute of ASCE. This up-to-date book from ASCE is a comprehensive guide to permeable pavements for engineers, planners, landscape architects, municipalities, transportation agencies, regulatory agencies, and property owners planning to implement this best management practice for stormwater and urban runoff. A cornerstone for low impact development and sustainable site design, permeable pavements are considered a green infrastructure practice. They offer many environmental benefits, from reduced stormwater runoff and improved water quality to better site design and enhanced safety of paved surfaces. This book offers a detailed overview of the typical permeable pavement systems and includes fact sheets, checklists, and real life case studies that help you to successfully incorporate this highly effective stormwater management system into your design projects. UNI-GROUP U.S.A.'s technical director, Harald von Langsdorff was a contributor on this project.
Fact sheets are included for porous asphalt, pervious concrete, permeable interlocking concrete pavement, and grid pavement and feature system descriptions, applications, benefits and information on site constraints/concerns.
The guide is available on the ASCE's website in digital format and also is available in a print version. Click here to order your copy.
New ASTM Test for Permeable Interlocking Concrete Pavers
By ASTM International - The ASTM International recently released C1781 Standard Test Method for Surface Infiltration Rate of Permeable Unit Pavement Systems. This test method is specifically designed for assessing the surface infiltration rate of new and in-service permeable interlocking concrete pavements and permeable clay brick pavements. The test method involves timing a slow pour of a known weight of water into a 12 inch diameter pipe fastened to the permeable pavement surface with plumber's putty. The infiltration rate is easily calculated using a formula in the test method. The test method also provides guidance on how to locate the 12 in. diameter pipe on the unit paving surface to measure infiltration that represents the pattern on the larger pavement area. The test uses similar equipment and methods in ASTM C1701 Standard Test Method for Infiltration Rate of in Place Pervious Concrete. The similarities between C1701 and C1781 make the test results comparable.

"We are seeing more provincial, state and local permeable pavement specifications require surface infiltration tests to accept new permeable pavements and to evaluate their in-service infiltration for determining surface cleaning," says Craig Walloch, chair of ASTM Subcommittee C15.04 on Research who helped develop the standard. "Now they have a method with specific guidance for testing unit paving with results that can be compared to that from pervious concrete and porous asphalt." Mr. Walloch further noted that existing guidelines published by stormwater agencies have used C1701 to test surface infiltration of permeable unit paving. While the results from that test method applied to permeable unit pavement are useful, C1781 provides clear guidance on executing the test on these pavements.

To purchase and download C1781 from ASTM, visit www.astm.org/Standards/C1781.htm. The standard retails for $42 and ASTM members receive a 10% discount.