Paver Patterns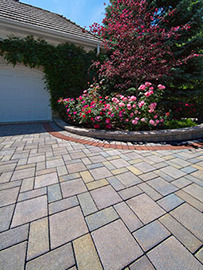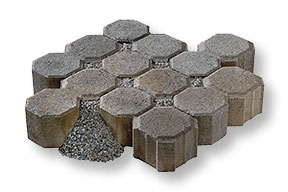 Most UNI® Interlocking Concrete Paving Stones can be installed in a number of pattern designs, such as running bonds, basketweaves, stack, and 45° and 90° herringbones.
For most residential pedestrian applications, such as courtyards, plazas, patios, walkways, and pool decks, any of the patterns can be utilized. Stack bond patterns should only be considered for pedestrian areas. Running bond patterns may be used for light-duty residential driveways, however, herringbone patterns are recommended as they provide a greater degree of interlock.

For heavier-trafficked pavements such as streets, parking lots, and industrial-load pavements, herringbone patterns should be utilized, or preferably, use a specially designed heavy-duty paver such as UNI-Anchorlock®, or UNI-Optiloc®, or for permeable projects, Ecoloc® or Eco-Optiloc®, which feature patterns unique to their geometry.
Many designers like to use Holland-Stone rectangular pavers (available at all UNI® licensed manufacturers) as a soldier or sailor border course along the outside edge of the pavement. This effect works well with almost any shape paver in any pattern.
If you need .DWG files for CAD, please visit our Downloads page or e-mail us your request.
Paver Colors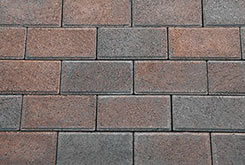 UNI® Manufacturers produce concrete pavers utilizing specialized equipment that applies extreme pressure and vibration to mold solid or blended pure iron oxide pigments with a cement-rich mixture into high-density concrete pavers that possess exceptional strength and durability. Depending upon availability and regional preferences, concrete pavers may be made with natural gray or white cement. Lighter color pavers can offer higher Solar Reflective Index (SRI) values for credits with green building rating systems such as LEED®.
UNI Manufacturers offer a wide range of colors and blends that reflect local preferences and architectural styles. Custom colors and finishes may be produced by individual UNI manufacturers at their discretion. Cost varies depending on geographical area, shipping distance, shape, and color. Please visit the website of the UNI Manufacturer nearest you for their color selections.
Paver Cost
The cost of traditional and permeable interlocking concrete pavers varies depending on geographical area, shipping distance, shape, and color and color blends. Please contact the UNI Manufacturer nearest you for pricing estimates for your project.
Quick Links
Tags: Interlocking concrete pavers, UNI Pavers, colors, color blends, iron oxide pigments, concrete paver patterns, herringbone, runningbond, parquet