Environmental Protection Agency

In the early 1990s, the United States Environmental Protection Agency (EPA) established the National Pollutant Discharge Elimination System (NPDES) stormwater regulations to comply with the requirements of the Clean Water Act. Compliance with federal, state, and local stormwater programs involves the use of "best management practices" (BMPs) to manage and control stormwater runoff. The EPA recognizes that effective management of stormwater runoff offers a number of benefits, including improved quality of surface waters, protection of wetland and aquatic ecosystems, conservation of water resources, and flood mitigation, as well as economic benefits. The EPA recommends approaches such as on-site infiltration that integrate control of stormwater and protection of natural systems.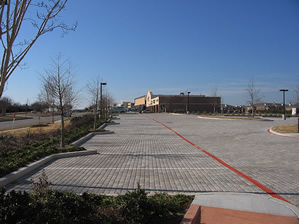 The Eco-Stone® Family of Permeable Pavers are an on-site infiltration technology that mitigates stormwater runoff and are a recommended BMP by the EPA. This allows for reduction of volume and peak flows, improved water quality, filtering of pollutants, mitigation of downstream flooding, and recharge of groundwater. UNI® Permeable Pavers are true interlocking pavers that offer the structural support, durability, and beauty of traditional concrete pavers, combined with the environmental benefit of permeability. The permeability is achieved through the drainage openings and/or joints, which are filled with a highly-permeable aggregate instead of the fine joint sand used with traditional pavers. For our permeable paver product line and a list of features and benefits, please visit our UNI Eco-Stone Family of Permeable Pavers page.
Since the implementation of the NPDES regulations, the EPA has developed an extensive number of resources that has grown to encompass not only stormwater, but also green infrastructure and low impact development as a means to manage stormwater runoff and its negative impacts on the environment. For your convenience, we've included a list of links and documents that you may find useful.
SWMM - STORMWATER MANAGEMENT MODEL PROGRAM
The U.S. EPA SWMM (Stormwater Management Model) Program may be downloaded free of charge. SWMM is a dynamic hydrology-hydraulic-water quality simulation model. It is used for single event or long-term (continuous) simulation of runoff quantity and quality from primarily urban areas. The routing portion transports this runoff through a system of pipes, channels, storage/treatment devices, pumps, and regulators. As of May 2014, SWMM Version 5.1.006 has recently been extended to model the hydrologic performance of specific types of low impact development (LID) controls. The LID controls that the user can choose include the following seven green infrastructure practices:
Permeable pavement
Rain gardens
Green roofs
Street planters
Rain barrels
Infiltration trenches
Vegetative swales
http://www.epa.gov/nrmrl/wswrd/wq/models/swmm/#Downloads
NATIONAL STORMWATER CALCULATOR
In 2013 the EPA developed a National Stormwater Calculator that is an easy to use desktop application that estimates the annual amount of stormwater runoff from a specific site based on local soil conditions, slope, land cover and historical rainfall records. Users can enter any U.S. location and select different scenarios to learn how specific green infrastructure changes, such as rain gardens or permeable pavement, can prevent pollution. The information helps users determine how adding green infrastructure can be one of the most cost-effective ways to reduce stormwater runoff.
EPA NATIONAL STORMWATER CALCULATOR
EPA NATIONAL STORMWATER CALCULATOR FACT SHEET
EPA NATIONAL STORMWATER CALCULATOR USERS GUIDE
EPA NATIONAL STORMWATER CALCULATOR WEBCAST SLIDES
GREEN INFRASTRUCTURE COLLABORATIVE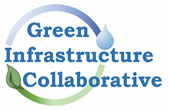 On October 8th, EPA's Green Infrastructure Program and the White House Council on Environmental Quality launched a broad collaborative of external stakeholders to advance green infrastructure implementation. The Green Infrastructure Collaborative will leverage efforts from the federal family, non-governmental organizations, the private sector and academia to advance green infrastructure as a means of supporting water quality and community development goals. As part of the announcement, EPA released a Statement of Support outlining specific commitments from Collaborative members to advance cooperation and coordination around green infrastructure initiatives.
The Collaborative will build capacity for green infrastructure by providing a platform for national stakeholders to:
Leverage joint efforts to promote the multiple community benefits of green infrastructure;
Share and build knowledge around emerging green infrastructure technologies and policy issues; and
Facilitate shared inquiry into the best ways to encourage adoption of green infrastructure technologies at the local level.
The Green Infrastructure Collaborative consists of more than 20 organizations committed to advancing the adoption of green infrastructure as a means of supporting water quality and community development goals. This broad group of signatories includes academia, non-governmental organizations, and the private sector including the American Society of Civil Engineers, the National Resources Defense Council, the Center for Neighborhood Technology, University of New Hampshire Stormwater Center, the American Society of Landscape Architects, and the Low Impact Development Center.
The Collaborative will build on the Green Infrastructure Partnership launched in 2007 by EPA and its founding partner organizations.
For more information on the Collaborative, visit: http://water.epa.gov/infrastructure/greeninfrastructure/gi_partners.cfm
G3 PARTNERSHIP
The Green Streets, Green Jobs, Green Towns Initiative (G3 Initiative) was designed to build a collaborative support network for small to medium sized towns and communities that are interested in adopting Green Infrastructure and, in particular Green Street practices to address urban stormwater, improve community health and livability, and encourage economic growth.  The G3 Initiative was created in 2010 in the US EPA Region 3 (Mid-Atlantic) Water Protection Division, Office of State and Watershed Partnerships. Learn more.
EPA INFORMATION, GUIDANCE AND REFERENCES
GREEN INFRASTRUCTURE IN PARKS: A Guide to Collaboration, Funding, and Community Engagement - NEW!
USING COOL PAVEMENTS TO REDUCE HEAT ISLANDS - NEW!
EPA REDUCING URBAN HEAT ISLAND EFFECTS - COOL PAVEMENTS - DRAFT
EPA FLOOD LOSS AVOIDANCE BENEFITS OF GREEN INFRASTRUCTURE FOR STORMWATER MANAGEMENT - NEW!
EPA GREEN INFRASTRUCTURE TECHNICAL ASSISTANCE SUMMARY - NEW!
COASTAL STORMWATER MANAGEMENT THROUGH GREEN INFRASTRUCTURE - NEW!
EPA RELEASES INTEGRATED GREEN STORMWATER INFRASTRUCTURE GUIDE - NEW!
EPA ENHANCING SUSTAINABLE COMMUNITIES WITH GREEN INFRASTRUCTURE - NEW!
EPA GREEN LONG-TERM CONTROL PLAN-EZ TEMPLATE
WHAT IS THE EPA DOING TO SUPPORT GREEN INFRASTRUCTURE?
EPA CATALOG OF FUNDING SOURCES FOR WATERSHED PROTECTION
EPA SUSTAINABLE PRACTICES
EPA WATER SCIENCES
EPA SUSTAINABLE WATER INFRASTRUCTURE RESEARCH
EPA SUSTAINABLE DESIGN AND GREEN BUILDING TOOLKIT
EPA MANAGING WET WEATHER WITH GREEN INFRASTRUCTURE
EPA GREEN INFRASTRUCTURE RESEARCH
EPA GREEN INFRASTRUCTURE FACT SHEET
EPA HELPING CITIES BENEFIT FROM GREEN INFRASTRUCTURE
EPA TAPPING GREEN INFRASTRUCTURE TO CURB SEWER OVERFLOWS
EPA PLANNING TOOL FOR COMBINED SEWER OVERFLOW CONTROL
EPA PARKING LOTS - LETTING IT SOAK IN
EPA EVALUATION OF URBAN SOILS FOR GREEN INFRASTRUCTURE
EPA STRATEGIC PLAN TO PROTECT WATER THROUGH GREEN INFRASTRUCTURE
EPA - PERMEABLE INTERLOCKING PAVEMENT
EPA LOW IMPACT BARRIER BUSTERS FACT SHEETS:
EPA NATIONAL MENU OF STORMWATER BMPS
EPA REDUCING STORMWATER COSTS THROUGH LOW IMPACT DEVELOPMENT
EPA REDUCING STORMWATER COSTS THROUGH LID STRATEGIES AND PRACTICES
EPA CASE STUDIES ON BENEFIT OF LID AND GREEN INFRASTRUCTURE
EPA GREEN INFRASTRUCTURE CASE STUDIES
ENVIRONMENTAL PROTECTION AGENCY - SMART GROWTH
ENVIRONMENTAL PROTECTION AGENCY - POST-CONSTRUCTION STORMWATER MANAGEMENT IN NEW DEVELOPMENT AND REDEVELOPMENT
EPA BUILDING BLOCKS GREEN BUILDING TOOL SPREADSHEET
EPA FUNDING AND INCENTIVES FOR STORMWATER AND GREEN INFRASTRUCTURE
EPA - COASTAL STORMWATER MANAGEMENT THROUGH GREEN INFRASTRUCTURE
URBAN WATERS FEDERAL PARTNERSHIP
EPA STORMWATER VIDEOS
http://water.epa.gov/polwaste/green/video.cfm
Quick Links
Tags: Interlocking concrete pavers, UNI Pavers, permeable pavers, PICP, permeable pavers features and benefits, EPA, stormwater, green infrastructure