Cross-Sections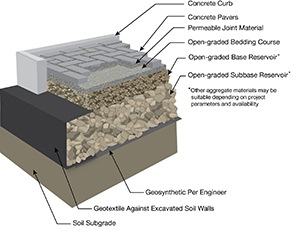 UNI-GROUP U.S.A. offers a number of cross-sections for traditional interlocking concrete pavements, as well as permeable pavements, including residential, commercial, municipal and industrial applications. Click on the links below for a PDF file showing the most popular cross-sections, including pavement for pedestrian and light-duty vehicular applications, street and parking lot on compacted aggregate base, port industrial pavement on cement treated base, and permeable pavers.

If you need .DWG versions of the individual files shown, or need cross-sections for a type of installation not shown on the PDF files, please visit our Downloads page or contact us at 1-800-872-1864 or via e-mail.



TRADITIONAL INTERLOCKING PAVER CROSS-SECTIONS
PERMEABLE INTERLOCKING PAVER CROSS-SECTIONS

For additional information on design, patterns, installation, technical data, specifications and more, click on the Quick Links below. We also feature information on specialty applications and installation such as slopes and embankments, roof decks, overlays on existing asphalt or concrete pavements, and more.

You may also contact the UNI® Manufacturer in your area for more information and guidance as to local construction design practices, materials, and qualified contractors. Most of our manufacturers offer their own cross-section details as well.

For structural design of interlocking concrete block pavements, UNI-GROUP U.S.A. offers Lockpave® Pro software, featuring PC-SWMM™ PP software for hydraulic design of permeable interlocking concrete pavements. Visit our Software page for more information..

Is there something you can't find on our website or have a question regarding design, installation or specifications? You also may e-mail us or give us a call and we'll do our best to answer any questions you may have.
Quick Links
Tags: Interlocking concrete pavers, heavy-duty pavers, industrial pavements, municipal pavements, commercial pavements, UNI Pavers, permeable pavers, PICP, cross-sections